Moulins bourgeois is a family company that was founded in verdelot (seine-et-marne) in 1895.
The mill's history and culture quite naturally led the Bourgeois family to accompany the company's growth with an attention to environmental questions. We have now implemented a sustainable development policy that underlines our commitment to human well-being and protecting the environment.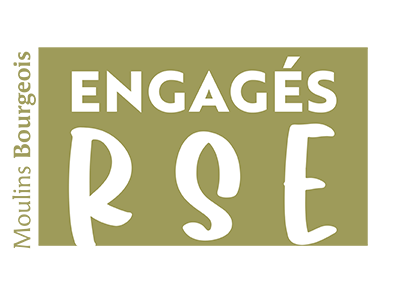 MOULINS BOURGEOIS,
A SOCIALLY RESPONSIBLE COMPANY SINCE 1895
Social responsibility is an integral part of our corporate culture.
Everyday brings a new challenge on the road to progress. We undertake to:


1. Be part of an agricultural sector that respects the environment
Select locally sourced agricultural raw materials that are 100% French.
Work with sustainable and/or fairtrade farmers.
Comply with in-house specifications.


2. Preserve our site and limit our environmental impact
Protect the environment and biodiversity in our region.
Limit our environmental impact on site and in the surrounding area.
Reduce our carbon footprint and use biofuels (Oleo 100).
Recycle our by-products and waste generated by our activity.
Adopt a sustainable approach to the use of available resources.
Foster a team-wide environmentally friendly approach.

3. Make the most
of our regional
base and local
know-how
Support our region and contribute to the local economy.
Promote the profession of artisan baker.
Offer a wider choice of courses at the Bourgeois Frères school.
Take part in local events.
Preserve the mill's historical heritage.

4. Pay attention
to employee
quality
of life
Develop human capital and encourage good labour relations.
Improve safety and overall working conditions in our workshops.
Provide a comfortable and pleasant working environment. Pay attention to the well-being of our employees.

5. Promote our quality flours with complete transparency
Offer a range of quality flours that meet our clients' needs.
Guarantee that the products we provide are healthy and safe for consumers by ensuring the control of our manufacturing process.
By means of the corporate social responsibility committee, Julien and David Bourgeois undertake to define and manage quantitative indicators and put into place the resources required to meet objectives.
To ensure that this approach is pertinent, Moulins Bourgeois counts on the involvement of each and every person working in the sector. As an integral part of corporate strategy, it undertakes to maintain sincere, transparent and lasting relationships in the sector as part of a concerted effort to improve practices.